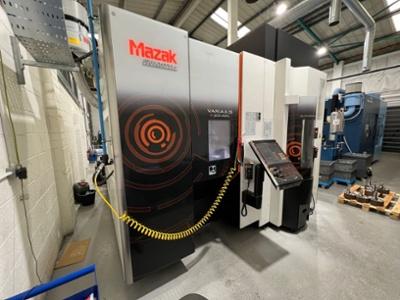 Capacity: Maximum workpiece dia.350mm. Maximum workpiece height 315mm. X axis stroke (saddle right/left movement) 350mm. Y axis stroke (column back/forth movement) 550mm. Z axis stroke (spindle up/down movement)510mm. A Axis travel (table tilt) 0.0001° x 1500000. C axis travel (table rotation) 0.0001° x 3600000. Maximum table load (evenly distributed) 60 kg. Spindle: Spindle taper 7/24 taper No.40. Spindle speeds 35-12,000 rpm. Main motor (AC inverter motor) 40% ED rating 22 kW. Main motor (AC inverter motor) continuous rating 15 kW. Main motor maximum torque 143Nm. Feed Rates: Rapids X/Y/Z 60/60/56 m/min. A/C 18000 degrees/min. Cutting feed rate X/Y/Z 56000mm/min. No. of simultaneous controlled axes 5.
AWC (Automatic Workpiece Changer): No. of workpiece holders 32. Clamp interface HSK-A100. Maximum workpiece dia. 350mm. Maximum workpiece height 315mm. Workpiece holder mass 60 kg. Loader feedrate A axis (with workpiece) 9.5m/min (without workpiece 25m/min. Loader feedrate B axis 80m/min. Loader feedrate C axis 30m/min. Loader stroke A axis 299 °. Loader stroke A axis 950mm. No. of loading stations 1. No. of workpiece stocker stations including standby stations 34. ATC & Tool Magazine: Tool storage capacity 145. Tool selection method Fixed address, auto shorter path selection. Tool shank type BT40. Retention bolt type Yamazaki ANSI type. Maximum tool dia 90mm (with adjacent tool) . Maximum tool dia. 130mm (without adjacent tool). Maximum tool length (from reference face of taper) 350mm.Maximum weight of tool 8 kg. Maximum tool moment 6.5 Nm.
Coolant tank capacity 400 Litres.
Machine Dimensions L x W x H 4930mm x 3430mm x 2968mm. Approximate weight 15,600 kg
Machine has been removed for convenience of sale and is now is storage in Greater Manchester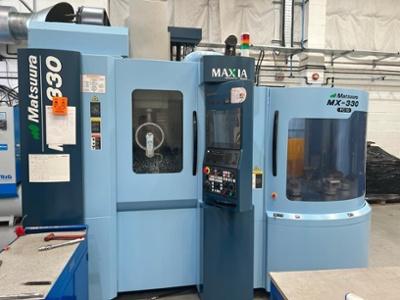 Working surface 130mm dia. Capto C6 Pallet System. X/Y/Z travels 435mm/465mm/560mm. Travel A/C (degrees) -125~-10 /360. Maximum work size 330mm dia. x 300mm high. Loading capacity 80 kg. Spindle taper BT 40. Spindle speeds 15,000 rpm. Rapids X/Y/Z 40m/min. Rapid traverse A/C min-1 17/33. No of tools 90. Type of tool shank JIS B 6339 40T. Maximum tool dia. 60mm. Maximum tool weight 10kg. Tool changing time 1.1 seconds. FSE Swarf Management System (Side Exit) with Chip Bin. 20 Bar Through Spindle Coolant (Duplex filtration). Filtermist FX4000 including floor stand & F monitor. Renishaw RMP600 Spindle Inspection Probe. Renishaw Laser Broken Tool Detection System. Matsuura G-Tech 31i Touch Screen Control.
Complete with 10 x Vices, 10 x Adapter Plates.
30 x Toolholders.
Supplied new by Matsuura Machinery Ltd and installed in 2022.
Machine has been removed for concenience of sale and is now is storage in Greater Manchester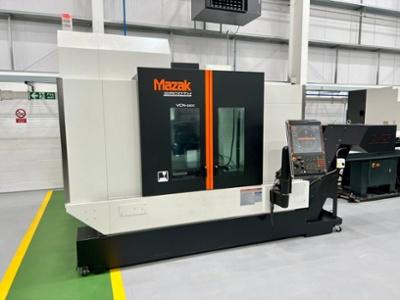 Table size 1300 x 550mm. T slot size 18mm. No of slots 5. Travels X/Y/Z 1050/530/510mm. Distance from spindle nose to table min/max 150/660mm. Distance from centre of spindle to front of column 586mm. Max table weight (evenly distributed) 1200Kg. Spindle nose type 7/24 taper, No. 4. Spindle Speeds 35 – 18000rpm. Speed change stepless regulation. Main motor 11kW. Rapid traverse feedrate 42000mm/min. Cutting feedrate 1 – 8000mm/min. Max tool length 350mm. Spindle hours 5890

Manual pulse generator. Mazak API. Cylindrical Interpolation. High level productivity pack. Workpiece air blast. Hi pressure coolant thru. Synchronised tapping. 8MB program size. Increased spindle speed of 18000RPM.
4th Axis interface & KITAGAWA MR200 4th Axis Attachment and Tailspindle. Renishaw Inspection Plus Software. MAS BT Spindle Configuration.
Machine Dimensions (L x W x H) 2880 x 2725 x 2652
Weight 6800Kg
Machine has been removed for concenience of sale and is now is storage in Greater Manchester